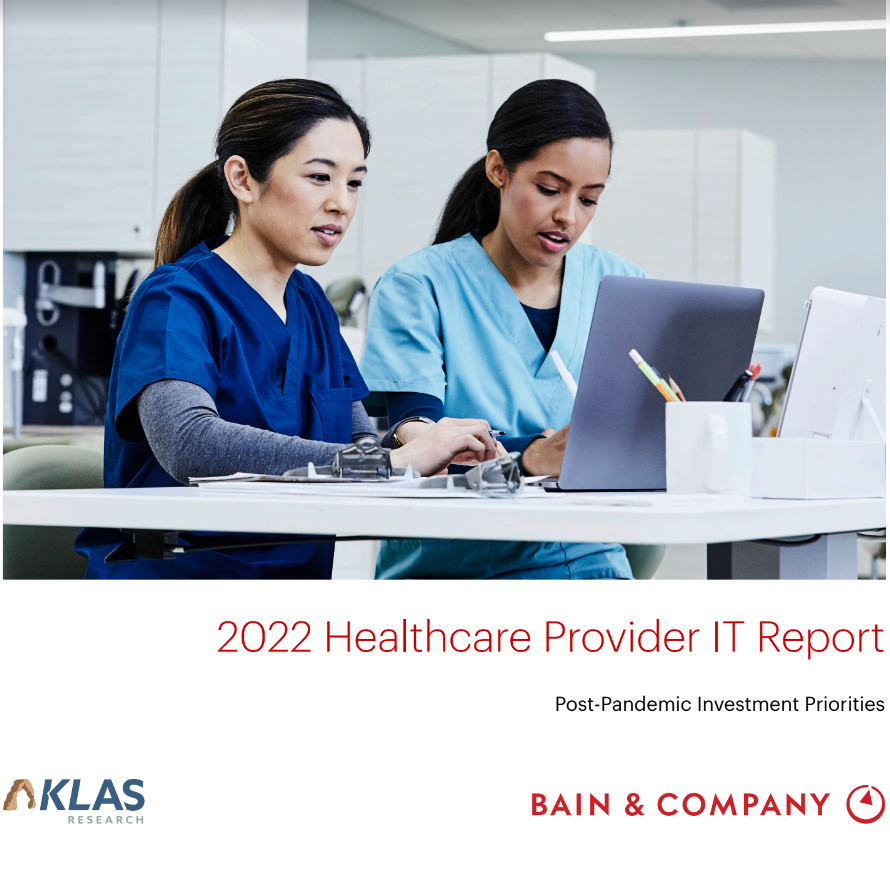 What You Should Know:
– Competition in the provider IT space shows no signs of abating: Early-stage capital, big tech, and scale EMR players continue crowding into more segments. This has significant implications for providers as they transition into a new disruptive period, for software players as they fine-tune go-to-market models for the current environment, and for private equity investors as they look to invest behind winning themes.
– A new report by KLAS Research and Bain & Company looks at post-pandemic investment priorities by healthcare providers
Key Themes and Insights from the 2022 Healthcare Provider IT Report: Post-Pandemic Investment Priorities
Covid-19 radically stretched healthcare providers in countless ways, including accelerating digitization and changing patient expectations about care delivery. Some organizations adopted multiple systems to keep pace with the changes; others pressed pause. Both sets of organizations are now regrouping, looking to be more focused with their investments and streamline their existing tech stacks. Provider organizations, regardless of size or sophistication, are emerging from the pandemic and taking stock of the software solutions they'll need in the long term and determining where and how to invest. As part of this reflection, many are seeking to better integrate new solutions and rationalize vendors. In the short term, clinician shortages and wage inflation are driving demand for solutions that improve productivity and alleviate labor needs.
Against this backdrop, vendors face growing competition from large electronic medical record (EMR) incumbents pursuing product adjacencies, big tech, and innovative venture capital–funded start-ups.
In the current environment, it is critical that vendors understand the investment posture of their customers, properly segment them based on their needs and behaviors, and refine go-to-market (GTM) models by articulating their differentiated value proposition in a crowded field. The healthcare information technology (HCIT) space has been historically attractive for investors, and it is expected to remain so despite recent macroeconomic turbulence. Investors must maintain discipline amid this uncertainty and continue to pursue attractive themes while assessing the impact of potential headwinds from market conditions, rising vendor rationalization, and the risk of being boxed out from existing provider solutions (especially EMRs) as part of diligence.
Key insights and themes from the report are as follows:
1. Providers are doubling down on software investments: As pandemic conditions eased, many providers ramped up their software investments. Some 45% of providers accelerated software investment over the past year, with only 10% decelerating their spending. This signals a turning point in the provider IT market as we emerge from the pandemic, with forward- thinking providers doubling down on technology roadmaps and many who spent the past few years on the sidelines looking to retool software roadmaps for a "new normal" that presents a host of new challenges, including macroeconomic pressures and long-term shifts in ways of working. Covid-19–era staffing shortfalls and burnout among physicians, nurses, and other clinicians, as well as IT and office personnel, continue to plague providers. These shortages led to a pandemic-era spike in wage inflation, which has been further exacerbated by rising wages and product cost inflation in the broader economy over the past 12 to 18 months. As a result, providers are looking to software solutions to boost productivity and automate tasks, with the ultimate goal of stronger financial outcomes and higher-quality patient care
2. Priority categories for the next year: Providers cite revenue cycle management (RCM), security and privacy, patient intake/flow, clinical systems, and telehealth as the most strategically important categories for software investment over the next year. Revenue cycle management software is critical in the current environment given the direct link with cash collections as well as the labor-intensive nature of revenue cycle processes. This is especially true for smaller provider organizations navigating complex payer landscapes and physician groups that lag health systems on the adoption of RCM software. Security and privacy software is another top investment priority for providers over the next year. Even before Covid-19, providers were vulnerable to cyberattacks. But the risks have risen. And as a result of the increase in the number of nodes in provider tech ecosystems, there's been a surge in security breaches. Patient intake/flow software remains another critical area for investment.
Covid-19 stretched hospital capacity to the max while also driving the need for enhanced virtual intake processes. As a result, providers continue to invest in patient flow systems and are also investing heavily in patient intake management tools and patient portals. Clinical systems remain a top investment priority, with providers citing EMRs as their primary investment area. While a few providers are making first-time investments in EMR solutions, most are planning investments focused on optimizing existing EMR systems to streamline provider workflows and boost productivity, extending core EMR environments to recently acquired entities, or even switching EMR vendors altogether. Telehealth, while having declined in importance since the nadir of the Covid-19 pandemic, remains a critical strategic priority. Large national health systems view telehealth systems as integral to care delivery and are looking to bolster existing video consultation/collaboration platforms and add enhanced telehealth capabilities.
3. Trends in the evolution of provider spending: While the outlook for provider software investments is strong, vendor proliferation and expanding tech stacks are driving changes in how providers plan to make software investments over the next year. Additionally, during the pandemic, many providers adopted new technology solutions across a broad set of clinical and operational areas. As a result, many are emerging from Covid-19 with greater complexity in their tech stacks than ever before. In fact, a quarter of all providers claim that their existing tech stacks keep them too busy to stay current on new offerings in the market.
4. Competitive pressures in the provider software space: Providers should expect continued vendor proliferation, and incumbent software providers should continue to expect rising competitive pressures caused by three primary forces: big tech, leading EMRs, and start-ups. Big tech players (including Amazon, Microsoft, Google, and Apple) have been pushing into healthcare in recent years with targeted offerings and investments.
The report also discussed key implications and opportunities for providers, vendors and investors; and are described below:
1. Financial pressures have long been the reality for providers. As costs rise, providers are doubling down on software that boosts revenue while reducing costs, leveraging digital front door solutions/ patient scheduling applications to increase volume while reducing back-office costs (e.g., schedulers, contact centers). Additionally, strong business analytics tools can rapidly identify inefficiencies and patient leakage. Finally, enhanced RCM modules can help maximize collections and optimize practice revenue—all while alleviating some of the labor intensity associated with revenue cycle processes.
2. Best-in-class providers are leveraging various software solutions to navigate challenges presented by labor shortages. Virtual care solutions, including telehealth and remote patient monitoring solutions, can enhance physician productivity while reducing data collection needs. Sophisticated scheduling solutions can help optimize staff allocations, alleviating pressure. Additionally, by effectively using RCM solutions, providers can further streamline medical coding, eligibility, billing, and collections to reduce administrative burdens.
3. Security breaches and cyberattacks on US healthcare providers will likely continue to increase, especially considering rising geopolitical tensions. Given the critical infrastructure and national security role played by healthcare and public health entities, regulators could introduce enhanced security mandates—and even provide funding to support cybersecurity for the US health system. In the meantime, leading providers are taking a multilayered approach to cybersecurity systems, including Zero Trust systems, strong firewalls, frequent updating of antivirus software, and sophisticated data storage/backup solutions.