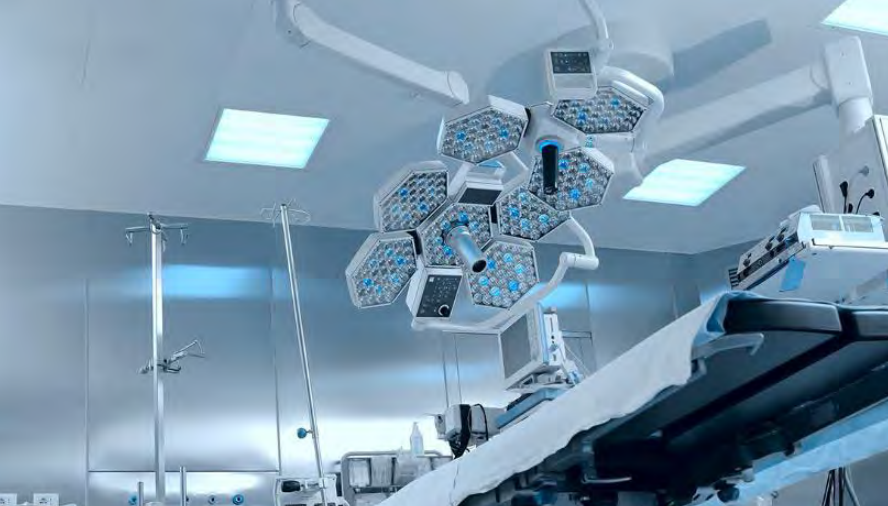 What You Should Know:
– The index of Healthcare & Life Science equities tracked by Stout was down 16.8% in Q2 2022, which was in line with the S&P 500 decline of 16.4%.
– Healthcare & Life Science M&A activity plummeted to 338 deals in Q2 2022 versus 535 in Q2 2021 and a record 565 deals in Q4 2021. The report reveals credit markets likely to tighten, but a healthy level of M&A is expected to continue in the growing and defensive healthcare sector.
---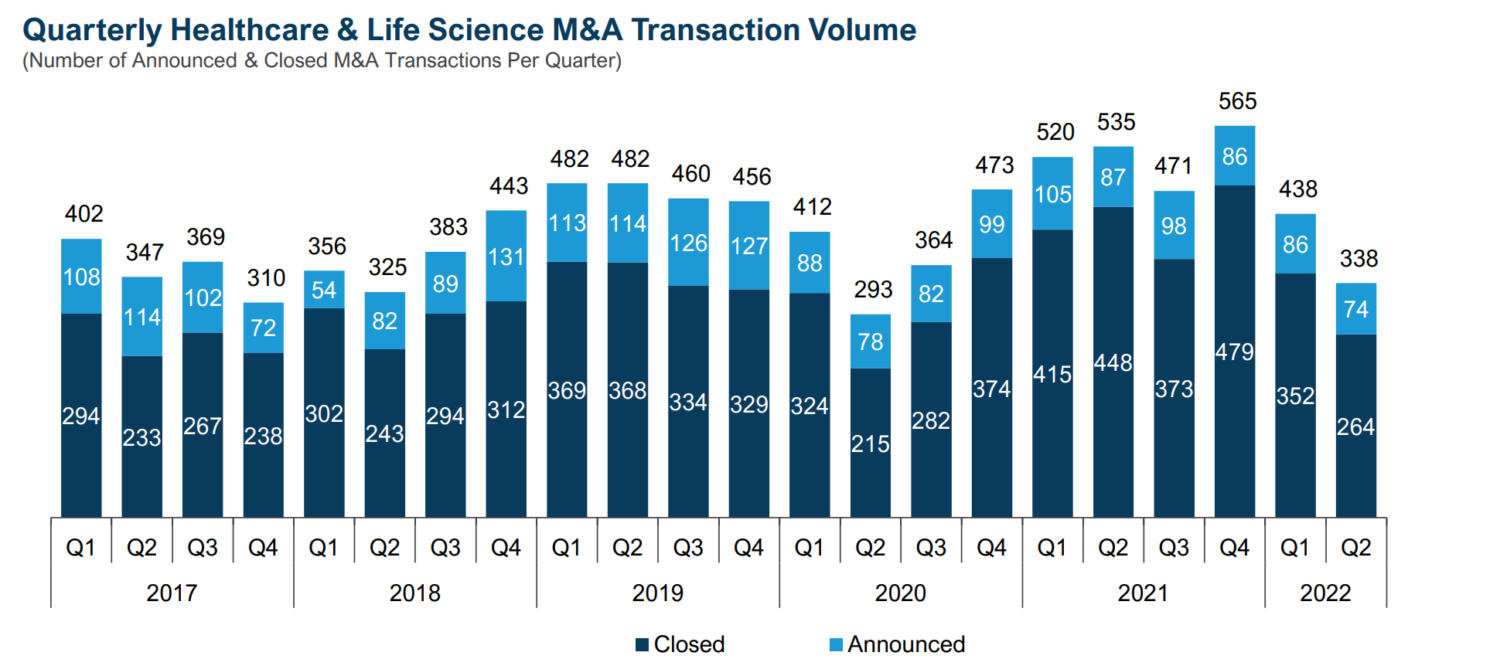 Key Trends and Market Summary
For more than 30 years, Stout has exclusively focused on serving the unique M&A transaction advisory needs of middle-market clients. It is a trusted advisor to leading organizations due to its deep industry knowledge, senior-level attention, process expertise, and relentless focus on delivering unparalleled results.
The key trends highlighted in the Quarterly Update Q2 2022 report from Stout are as follows:
1. Health Service Equities and Big Pharma: Healthcare Service equities underperformed the S&P 500, but the outperformance of the Big Pharma and Biotech sub-sectors allowed healthcare overall to keep pace with the market. Hospital stocks dropped 32.6% in the second quarter and were the worst performing sub-sector tracked by Stout in the quarter. Rising costs for nurses and hospital staff along with growing labor shortages have resulted in several of the largest hospital companies, such as HCA Healthcare, lowering earnings estimates, which drove prices downward across the sub-sector in Q2 2022. To combat labor shortages, hospitals have been frequently contracting out for traveling nursing staff or dealing with organized building staff, which ultimately raises their cost of labor.
2. The Physician Practice Management Sub-sector: Stout has not observed the same labor cost issues impacting the Physician Practice Management ("PPM") sub-sector, as these companies typically avoid turning to contract labor, and some PPM companies have already been paying at higher rates. Supply costs are often less significant in the cost structure of PPM companies, and campaigns run by large drug companies in an effort to increase market share for pharmaceuticals coming off patent expiration may generate additional opportunities for PPM companies to achieve higher margins on J-Code drug billing.
3. CMS Proposed Changes to the Physician Fee Schedule 2023: On July 7, 2022, the CMS announced that it is soliciting public comment on proposed policy changes for Medicare payments under the Physician Fee Schedule ("PFS") effective on or after January 1, 2023. Physician payments are based on multiplying Relative Value Units ("RVUs") that are assigned to each type of service by a conversion factor. RVUs are applied to each service for work, medical practice expenses, and malpractice expenses. The proposed changes would reduce the conversion factor by 4.4% from $34.61 in CY 2022 to $33.08 in CY 2023.
4. Behavioural Health and Telemedicine: The Behavioural Health subsector was down 18.4% in Q2 2022, with only Acadia Healthcare posting a gain in share price. Policymakers are recognizing the need for payers to increase coverage and reimbursement for integrated behavioral health services, which entails primary care and behavioral health collaboration, to achieve better clinical and cost outcomes along with a healthier workforce. Access to telemedicine in behavioral health is also expected to increase over time, but there are prevailing questions that continue to be discussed as to whether opioids can be prescribed in telemedicine consultations versus in-person visits once the public health emergency passes.
5. Health IT Equities: Healthcare Information Technology equities were down 21.2% in the quarter. Telemedicine leader Teladoc tumbled 54% in the quarter as the pandemic continues to subside and patients are no longer sheltering in place, electing instead to partake in in-person visits. Telemedicine is also experiencing a higher level of competition and growing costs of advertising.
6. Predictions regarding Home Care and Medicaid Outlook: As a general observation, Stout thinks that many states will increase reimbursement rates and funding for Medicaid recipients, who have often had difficulty accessing quality home care due to providers declining to participate in government-funded programs. In California, Medicaid has become an attractive and lucrative business for providers who know how to effectively operate in the segment. Stout anticipates that payers will increasingly refer patients into the lower-cost home setting earlier in the continuum of care, and we are actively working on mandates within the home healthcare supply and medical equipment distribution subsectors, where the market is also expanding and moving toward capitation from traditional fee-for-service models.
7. Medical Devices and Life Sciences: The defensive pharmaceutical equities outperformed the market during Q2 2022. Medical Device equities were down 18.5% in the quarter, while the Molecular Diagnostics / Clinical Labs / Tools subsector declined 15.7%, driven down by weaker performance among high-multiple names, such as Illumina.
M&A Market Key Takeaways
– M&A transaction volume across the Healthcare & Life Science industry plummeted in Q2 2022 to 338 deals announced and/or closed, a decline of 37% from 535 transactions in Q2 2021 and a record 565 transactions in Q4 2021. The weak first half of 2022 was to be expected given the bolus of transactions that were consummated at the end 2021, but the second quarter dip was far greater than anticipated
– The volume of new deals announced during Q2 2022 also dropped to 74 transactions versus 87 transactions a year ago, which is its lowest level since Q1 2018. This likely suggests that 2H 2022 will not rebound much, and we also anticipate that lenders will become more discerning and conservative in the second half given recession fears and recent interest rate increases
– Stout is seeing high-quality mandates in its own healthcare pipeline, private equity groups and strategic still maintain large cash reserves, and lenders will probably show debt underwriting preference for recession-resistant sectors likely Healthcare & Life Sciences in the near term, so we think M&A activity healthcare will remain healthy
– Overall, the number of transactions closed in the quarter dropped 41% to 264
– Overall transaction value of deals announced and/or closed in Q2 2022 was $26 billion versus $31 billion in Q2 2021 and $65 billion in Q4 2021
– The larger transactions in the quarter were, once again, transactions occurring in the Pharmaceutical and Biotechnology subsectors. Pharmaceutical and Biotechnology transactions accounted for five of the ten largest transactions in the quarter; however, companies in these subsectors are more likely to be publicly traded than companies in other subsectors, and are therefore more likely to disclose transaction value